Welcome to Sickboyz Customs
Sickboyz Customs is a small custom bike building company that specialises in the American v-twin market, although we have been known to entertain the odd British bike and crotch rocket, the Harley type builds are our passion.
The inspiration for Sickboyz Customs came out of frustration with dealing with other custom bike builders,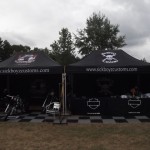 our aim is to complete work in reasonable times and to come up with some really cool looking bikes.
Sickboyz Customs can customise your Harley with some very special one off parts or from the bolt on market.
Sickboyz are custom chrome dealers and would be happy to supply any parts from there extensive range of products, we also have a few contacts in the USA that are always happy to deal with us, so if it's not in the custom chrome catalogue it doesn't mean we can't get it.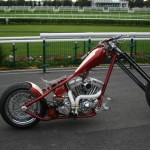 Sickboyz customs are friendly, helpful and approachable bike builders, we are happy to be asked any questions, we feel that everybody can have a custom bike with very special parts on it, without having to remortgage your house.
If you have already seen or know us, you will know we enjoy  every bike show and meeting, we don't take ourselves to seriously and we enjoy life.
Come see us at any show we appear at and you will enjoy.